October 19, 2022 |
Prepared for innovation
New headquarters for meteocontrol
meteocontrol has begun the move to its new Augsburg headquarters. This had become necessary in order to create sufficient space for the company's growth. With our move, we are creating space for new colleagues. In the process, we are also enlarging the individual workstations. We are setting up a modern training area for our customers. We have used the move as an opportunity to further define our work concept and design interior spaces to match. This way, we hope to offer our employees in Augsburg and potential applicants added value that other employers don't have in this way. In this blog post, I explain what kind of building we are moving into with meteocontrol and how we are creating space for innovation.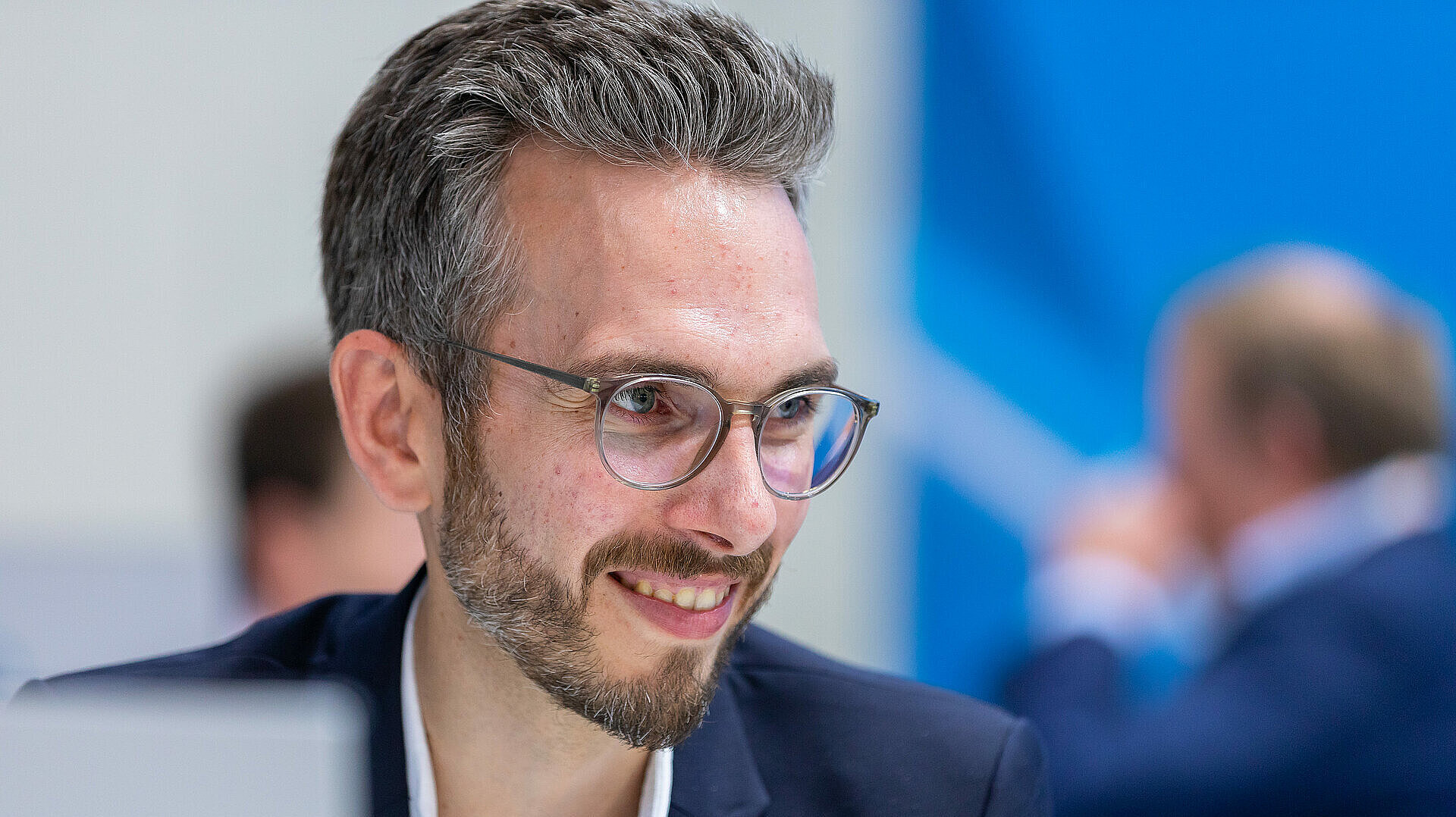 Good connections and modern mobility
Location has been a key selection criteria for us. Our new office is located close to the city center in Augsburg's westside, directly at Sheridan Park - a 20-hectare recreation and leisure area built on a former barracks site. The headquarters can be easily reached by public transport, as well as the highway B17, exit Stadtbergen.
Modern mobility and health benefits are important to us. That is why meteocontrol supports the lease of bicycles and e-bikes. Those who come with an electric car should be able to charge it directly in our parking lot with solar power from the company roof.
Our routes to work hardly change, as the new office is only one kilometer away from the old one as the crow flies. All our bike fans can now look forward to showers. Charging facilities for e-bikes will be installed at the bicycle parking spaces in the underground garage.
Welcome to the Sheridan Cubes!
Our new headquarters is called Sheridan Cubes because its large rectangular windows are reminiscent of a cube. These let in plenty of daylight. In front of the Cubes is the idyllic park.
As a special feature in terms of energy technology, the Cubes have a concrete core temperature control system. This refers to pipe loops in the concrete ceilings that are used for cooling in the summer. For this purpose, cool local groundwater is pumped through the pipes into the ceiling during the warm season. This allows concentrated work even on particularly hot days. In winter, warm water with a low flow temperature is pumped through the ceiling in addition to the underfloor heating. The uniform radiant heat from the floor and ceiling results in a high level of comfort. Our Cubes are a place where people should enjoy spending time.
Interiors that fit the work concept
A new building does not make a company innovative. But it does its part to give employees a free and self-determined environment to do so: Everyone can choose a place each day that fits well with their own way of working and where everything is there that is needed for the task at hand.
That sounds a bit abstract at first.
To make it more concrete, I'll elaborate further: Right at the beginning of the pandemic, we introduced new regulations for work from home. Our experience with this has been positive. That's why we are establishing the right to home office at meteocontrol on a permanent basis - as far as the role allows. We make this possible by sharing the workplaces in the office buildings. After all, an empty office building with fixed desks makes no economic sense. Furthermore, the so-called shared desk systems offer significant advantages.
To ensure that our new work concept really suits us, we listened to our team, via a workshop with an work psychologist and a systematic survey. On this basis, we jointly decided that each department would have a home base that matched its work focus and where the desks would be cleared at the end of each working day. This is how we had already handled it in the old office.
Now, however, the interiors are being tailored to this new working environment. We commissioned the planning office Linke Officedesign with this task. A few examples of how the new interior design fits our needs:
Concentrated work: To dampen the noise level, acoustically absorbent materials are installed in the rooms, which minimize the echo time. In addition, we arrange certain rules of conduct, for example for longer meetings between team members. We don't talk at our desks, for example, but instead go to the lounge areas or book a meeting room on the spur of the moment. Likewise, there should be telephone boxes and a room for concentrated work where no phone calls are allowed at all.
Feeling safe: No one should feel observed. That's why no one should have to sit with their back to a door - and if they do, there's a privacy screen. In addition, we have neither really open-plan offices nor through-traffic. We have an average of six workstations per office. The fact that we feel comfortable and allow ourselves moments of relaxation is an important basis for being able to work well. Our large roof terrace or Sheridan Park are ideal for taking a deep breath, creative breaks or short walks at work.
Lively exchange: Our wide corridors have lounge areas and areas that invite people to talk and spontaneously meet for a coffee. On the first floor, we have a shared work café as an overarching meeting place. Here, the kitchen can be used for joint cooking activities. In addition to classic meeting rooms, workshop rooms can also be booked, which are well suited for creative work processes thanks to their movable furniture. This is part of our one mc vision, which stands for how important the exchange of feedback, ideas and knowledge is to us at meteocontrol.
Our move to the Augsburg site will take place gradually over the course of October. Our services will of course be available without interruption. We are very much looking forward to welcoming you personally to the Sheridan Cubes in Augsburg soon.