Reliable control systems for industrial PV systems from meteocontrol
meteocontrol's products and solutions to control, regulate and monitor photovoltaic systems like the controller blue'Log XC, the Power Plant Controller (PPC) and the local SCADA system SCADA Center will enable you to comply with grid connection requirements around the world and ensure reliable system operations through the entire life cycle.
Standardized and individual hardware and software solutions, complemented by project engineering and many years of industry experience, make meteocontrol a strong partner in grid integration and the automation of PV systems in the commercial and industrial segment.
blue'Log XC: Fast and precise control of PV systems
In addition to the blue'Log XM used for monitoring purposes, the blue'Log XC (control) offers a wide range of functions for plant control and reliably guarantees grid connection. The scalable plant control based on the blue'Log XC facilitates the flexible use of the controller from the low-voltage to the high-voltage level. With the help of the graphic user interface, commissioning can be done quickly and easily. It does not require any programming knowledge.
Controller for grid-friendly feed-in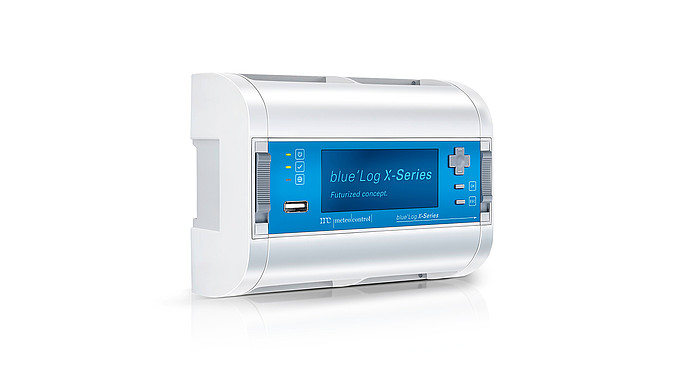 Power Plant Controller (PPC): Certified plant controller for medium and high voltage
The Power Plant Controller (PPC) supports both national and international grid codes, enabling grid-compliant feed-in from PV systems at medium-voltage and high-voltage levels worldwide. The plant controller is characterized by tremendous flexibility in the system design, the selection of PV system technology, broad compatibility created by a variety of interfaces and protocols as well as fast and simple configuration thanks to the user-friendly system. The certified power plant characteristics of the controller blue'Log XC and the provision of simulation models when necessary will create additional transparency in the grid integration of your PV system.
Plant controller for grid code compliance of your PV power plant
SCADA Center: Industrial automation solutions for PV power plants around the world
The SCADA Center based on industry servers for the local operation and management of PV power plants offers a redundant long-term storage option for your data and thus maximum security for your communication topology with the help of the optional standby server. All measured values are recorded, processed and visualized locally and in real-time. This facilitates fast, efficient fault detection and fault localization. Precise, time-based analyses, system-specific power flow diagrams, a well-conceived alarm management system and an individually adjustable user interface enable a tailored solution to be created for every project.
Local SCADA for the industrial communication infrastructure of your photovoltaic power plant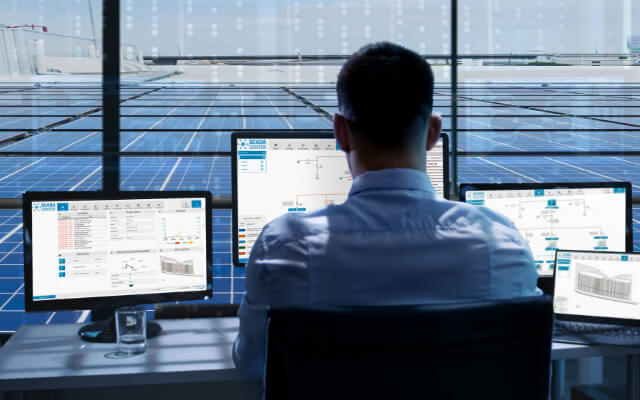 Complete control cabinet solutions for PV plant control
The control cabinets containing the measurement, control and regulation technology can be individually configured. They provide you with flexible plant control solutions for your PV system – in exterior and interior areas for commercial and industrial photovoltaic systems. Thanks to individual configuration options for the pre-wired complete solutions, the stations are specially adapted to your needs and facilitate fast installation and commissioning.
Communication control cabinets as an interface between the grid operator and your PV system