September 08, 2023 |
Up for a coffee with... Jorge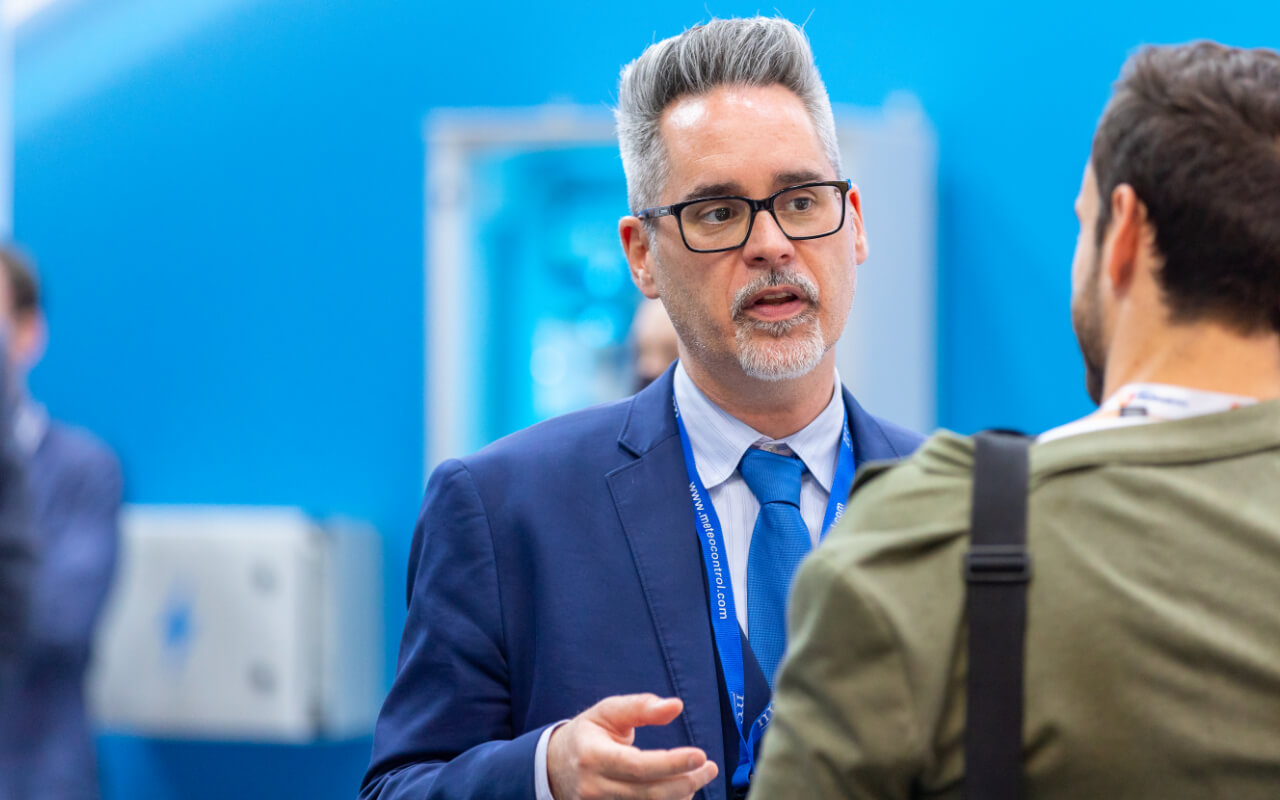 Amidst the ever-evolving energy landscape, our colleague Jorge Franco has forged an impressive career path. With extensive sales experience and a diverse cultural background, he brings a multifaceted expertise to his current role as the Head of Sales North America at meteocontrol. In this interview, we delve into his professional journey, his strategic orientation in the North American renewable energy market, and how he forges enduring partnerships to solidify meteocontrol's stance in this dynamic sector
mc: Hello Jorge, thank you for taking the time for this interview. Let's dive right into the conversation. With your extensive background in sales and a track record of success, could you share your career journey and how you came to be part of meteocontrol?
Jorge: Absolutely. It's a pleasure to be here. I've had the privilege of working in diverse environments, from small to global enterprises. My fluency in multiple languages, including English, Spanish, German, Italian, and French, has facilitated my work in various international contexts. I joined meteocontrol's North American sales team in 2018 as an Account Manager, and from there, my roles expanded to National Sales Manager and eventually Head of Sales for North America.
mc: Your current role as Head of Sales North America surely comes with its challenges and opportunities. What do you perceive as the key challenges and prospects within the North American renewable energy market, and how do you shape meteocontrol's strategic direction in this region?
Jorge: You're absolutely right. The North American market for renewable energy presents exciting opportunities, but it's also highly competitive. My focus is on developing and executing comprehensive business strategies tailored to our assigned territories and product categories. Our goal is to establish meteocontrol as a recognized brand in PV monitoring by showcasing our expertise, fostering strong partnerships and evolving into a key player in the market. meteocontrol's success on an international level has proven that our solutions are a good fit for multinational companies, and we are able to comply with the continually expanding GCCs worldwide.
mc: Your career path has spanned various sales roles. How has your diverse background influenced your approach to sales and customer relationship management?
Jorge: My journey through various roles has provided me with a holistic understanding of the sales landscape of several countries, as well as sales management throughout the different project phases. The interpersonal skills I've honed over time, combined with my proficiency in multiple languages, have enabled me to connect with clients on a deeper level. Building and maintaining strong relationships has always been at the core of my personal approach and mirrors who I am.
mc: The renewable energy industry is dynamic and constantly evolving. How does meteocontrol differentiate itself in this competitive sector while addressing the unique needs of North American customers?
Jorge: meteocontrol sets itself apart by offering innovative solutions that cater to the specific demands of the renewable energy landscape. Our emphasis on quality and customer satisfaction resonates well with the North American market, and we continually adapt to the evolving industry trends to provide cutting-edge solutions. Our approach enables our customers to maintain independence and pick and choose what products fit their needs, avoiding additional hardware retrofit costs in the future. meteocontrol also prides itself as a fair, supportive and socially conscious international employer, with a large percentage of mc employees staying with the company for more than 5 years.
mc: You often stress the importance of long-term partnerships in sales. How does meteocontrol build and nurture sustainable customer relationships in the North American market?
Jorge: Building lasting relationships requires more than just transactional interactions. We prioritize understanding our clients' needs and challenges, which allows us to provide tailored solutions that drive their success. This personalized approach, combined with consistent communication and support, lays the foundation for enduring partnerships.
mc: As a multilingual professional, you've had the opportunity to interact with various cultures and industries. How do you integrate your language skills and cultural insights into your sales strategies?
Jorge: Language is a powerful tool for fostering trust and connection. Being able to communicate effectively in multiple languages helps bridge cultural gaps and demonstrates a genuine interest in our clients' needs. This approach facilitates smoother negotiations and contributes to building strong relationships.
mc: Could you share a notable experience from your time at meteocontrol, perhaps a project or initiative that exemplifies your role and the company's impact?
Jorge: Certainly. One project that stands out is our collaboration with one of our global customers that had a very tight deadline to complete a PV hardware solution. We were missing crucial components during the supply chain global bottleneck and we scoured the internet to find what we needed shipped from various countries to keep the project ontime and prevent significant fines. This really exemplifies meteocontrol's commitment to pushing the boundaries of what's possible to support our customers.
mc: Balancing a demanding role like yours with personal interests can be challenging. How do you manage your time effectively to ensure both professional success and personal well-being?
Jorge: Time management is indeed crucial. I prioritize tasks based on their impact and align them with the company's strategic goals whenever possible. Additionally, setting aside time for personal activities that rejuvenate me helps maintain a healthy work-life balance.
mc: Looking ahead, what vision do you hold for meteocontrol's role in shaping the North American energy sector? What aspirations do you have for your team in the coming years?
Jorge: I envision meteocontrol becoming a more recognized and dominant player in the North American renewable energy market. My goal is for our team to grow and to continue fostering strong partnerships, delivering timely innovative solutions, and contributing to a domestic renewable energy transition.