This year, we decided to rather invest into charities instead of traditional end-of-year presents and cards. There are countless charities, non-profit organizations and foundations that dedicate themselves to making the world a better place. We wanted to be a part of that change and asked our colleagues which organizations they support personally.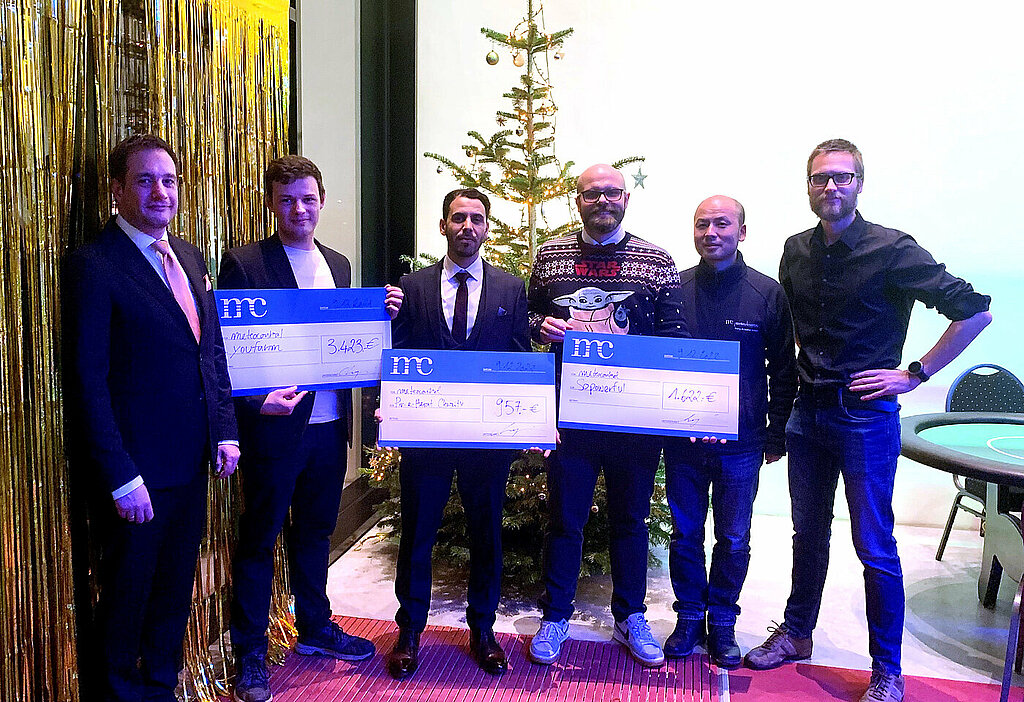 left to right: Rouven Lenhart, Karsten Schaefers, Hamed Afzali, Christopher Meyer-Friedrich, Cheng Liu, Stijn Stevens © meteocontrol
It was amazing to see that so many of our colleagues THINK AHEAD not only in their workday, but also in their private life! After the nomination period, we held an internal voting and determined the top 3 charities. The Sopowerul Foundation, Pir-e Herat Charity Foundation and youfarm Augsburg were our candidates for our Click4Charity rallye.
Over a course of two weeks, everybody from customers to friends, family and our colleagues as well were able to give their vote for their favourite charity. At the end of the vote, each charity received a check worth the percentual amount of the 2000 clicks. For the winner we doubled the amount. It was a tight race, but in the end youfarm Augsburg could secure the most votes and scored the first place:
"We are very pleased to have won the 1st place in the voting with youfarm. Our thanks goes to all who voted for us and of course especially to meteocontrol, who made the donation possible through their generous charity campaign. Actions like these that allow us to continue to provide a diverse range of activities. It is actions like these that allow us to continue to provide a diverse range of services. With the money we can again realize many wishes of our farmkids and offer great workshops. The money will mainly be invested in our workshop. We urgently need new hand and fret saws suitable for children, as well as chisels and carving tools. The bicycle workshop will also be re-equipped with new material such as inner tubes and repair tools. In addition, there will be a new set of children's bicycle helmets."
The second place goes to Sopowerful. The foundation with their slogan "Solar where it matters most" works together with local installers to implement solar systems where these empower local, life-changing initiatives in the fields of healthcare, education and access to water:
"It was a pleasure to be selected for the Click4Charity project, and to compete with two other amazing initiatives for this support, which will be used for our upcoming projects."
The third place goes to Pir-e Herat Charity Foundation could secure the hearts of many voters and will be able to provide more warm clothes and food to the disabled children and can look forward to further supporting their health and education in the upcoming year.
In retrospective, Click4Charity was a full success! WE got to use our platform for a worthy cause to spotlight the foundations, YOU helped us increase awareness for the projects and actively were part of the process with your vote and THE CHARITIES received financial support to continue their amazing work.
Another big THANK YOU to everyone who was involved in our Click4Charity. We are looking forward to see this year's charities grow even further in the upcoming year.