With a strong commitment to innovation and quality, meteocontrol GmbH will showcase its comprehensive solutions and services at this year's Smarter E in Munich. Under the motto "Think Ahead", the globally operating company will present its latest solutions in the field of asset and energy management at booth B5.210. A special highlight will be the presentation of the brand new Hybrid Energy Management System (HEMS).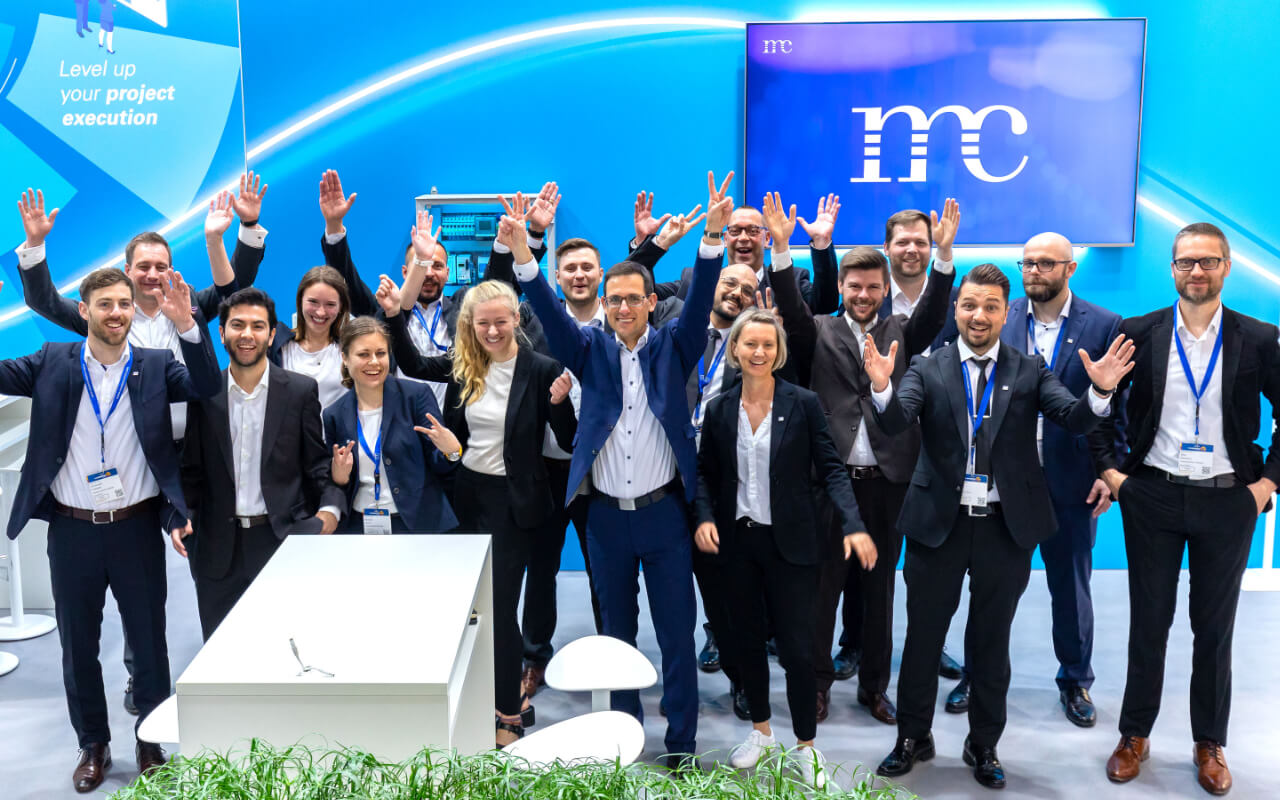 The meteocontrol team at Smarter E Europe. Source: meteocontrol
The rapid market growth in the renewable energy sector is challenging companies around the world. More than ever, holistic and customized solutions are needed to improve performance, reduce risks and increase the profitability of investments. At this year's Smarter E, full-service provider meteocontrol will present its wide range of innovative solutions and services.
As a special highlight, meteocontrol will present its new Hybrid Energy Management System (HEMS) on its 25th anniversary year. The meteocontrol HEMS serves as a high-level controller, which enables battery storage to be integrated into renewable energy systems.
Based on the proven blue'Log® XC controller for PV systems, HEMS now enables the connection of hybrid systems to the grid and serves a wide range of applications. From simple increase of self-consumption or zero feed-in for commercial and industrial systems to complex grid services in the power plant segment, HEMS provides the proven meteocontrol expertise.
Easy integration of the system in the planning phase, fast and uncomplicated installation, and standardized commissioning (which does not require any programming knowledge) can also be expected by meteocontrol customers from the new HEMS.
The introduction of HEMS ensures that investors and plant operators can achieve the maximum profit even from complex hybrid systems and that their plants safely meet the grid connection requirements.
"HEMS is a milestone on the road to the energy transition," emphasizes Dr. Stijn Stevens, CTO and Managing Director at meteocontrol. "With smart features such as Band Shaving, Energy Trading, Energy Shifting, PV Self-Consumption, Zero Feed-in and Operating Reserves, it not only helps stabilizing the power grid, but also enables our customers to optimize their energy generation and consumption based on their needs and local grid connection requirements. The benefits of the Hybrid Energy Management System (HEMS) are numerous. They allow using the maximum of self-produced energy and storing surplus energy to be used later.
In addition, it allows one to benefit from variations on the electricity power exchange and has the possibility to participate in the balancing energy market."
The HEMS system is currently being tested under laboratory conditions at Rosenheim Technical University and at customer plants under real conditions. The final market launch is scheduled to take place as soon as the certification process has been fully completed.
Significant enhancements have also been made to meteocontrol's proven products. VCOM Cloud has been expanded to include several features such as Data Cloud Backup and Smart Alarms. In addition, the monitoring of storage systems is increasingly gaining in importance. Regarding the blue'Log ®, the newly implemented Frequency Sensitive Mode (FSM) ensures improved grid stability, and the certified Power Plant Controller enables regulation-compliant operation in Spain.
"Our further developments and innovations are based to a considerable extent on feedback from our long-term partners and customers. As an independent supplier, we ensure that they can always choose the best solutions to their specific requirements without being tied to specific technologies, manufacturers, or service providers. With our broad range of products and services, including HEMS, we are optimally positioned in the increasingly complex energy market to meet our customers' challenges now and in the future," explains Rouven Lenhart, Executive Vice President at meteocontrol.
In line with its motto "Think Ahead", meteocontrol invites all visitors to Smarter E Europe 2023 to visit them at booth B5.210 and learn about the company's latest solutions.
About meteocontrol: meteocontrol is a leading full-service provider of innovative energy and asset management solutions. With 25 years of experience in the renewable energy sector, meteocontrol offers a comprehensive portfolio of services to improve the efficiency, reliability, and profitability of renewable energy systems. The service portfolio includes solutions for professional plant monitoring, control systems, feed-in management, and independent technical advisory services. meteocontrol is headquartered in Augsburg, Germany, and serves its international customers from a variety of locations.
For more information, please contact: Niklas Horn, Head of Marketing & Communications, marketing@meteocontrol.de