Augsburg/Germany, May 04, 2022. Under the motto "Think Ahead", meteocontrol GmbH will be demonstrating at its booth B3.574 at Intersolar Europe how more efficient operational management can save time, increase yields and thus drive forward the energy transition. To this end, the full-service provider for intelligent energy management will be focusing on the completely revised 'Smart Alarms' function in VCOM Cloud and the modular package solution 'REvolution Booster Kit' for very fast grid connection at its booth. Visitors will learn how meteocontrol supports its customers with holistic and professional services in every project phase of their plant portfolio in the commercial and utility segments.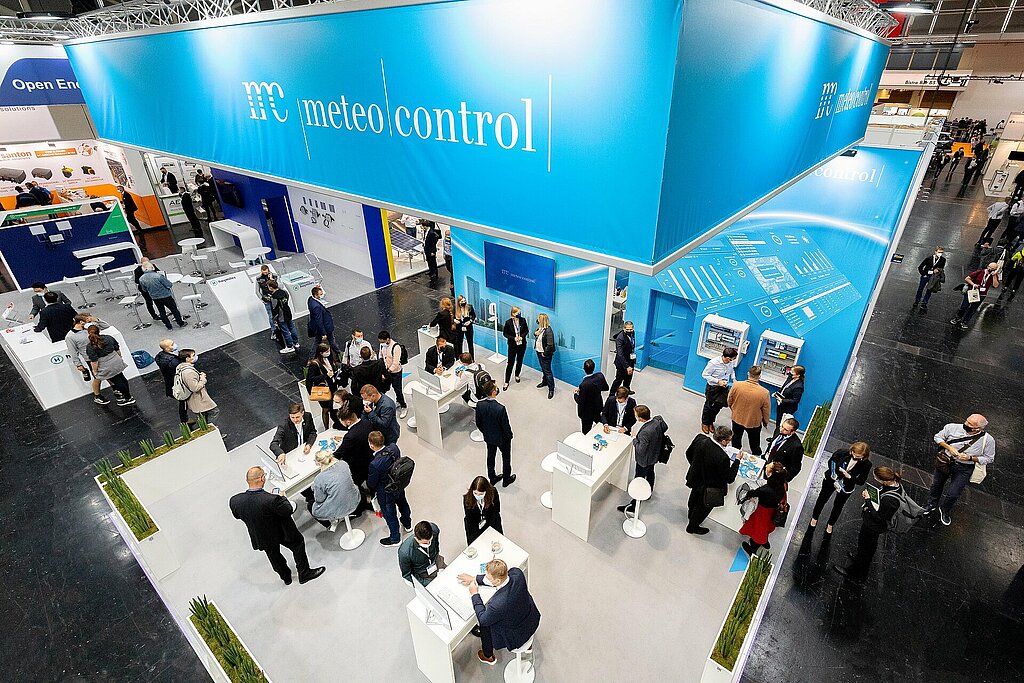 Given the accelerating growth in the PV industry worldwide, the smooth operations and maintenance (O&M) process is of key importance to plant operators. It saves time and helps increase the yield of renewable energy generation. With the help of more efficient operations management, plant operators can respond more quickly to errors. Just in time for Intersolar Europe, the world's leading trade fair for the solar industry, meteocontrol is therefore presenting the new 'Smart Alarms' function in VCOM Cloud: the data- and component-based solution, which is based on machine learning, can be used to intelligently identify possible failures and the corresponding causes and send specific instructions for action.
Smart alarm function
The new function in VCOM Cloud scores with several special features, as Tobias Brüser, Vice President Products at meteocontrol explains: "The Smart Alarms update their status depending on the severity. As a result, there are no redundant alarms for a failure, but only a single alarm that adapts." Other features include easier failure detection at the system and inverter level, a streamlined user interface for easy configuration of alarms, and the ability to use pre-configured default alarms or create custom alarms yourself. This makes it possible to generate only the alarms that actually matter.
Connecting PV systems to the grid quicker and securely
As another highlight, meteocontrol will launch the new modular the modular package solution 'REvolution Booster Kit' at its booth. The scalable solution allows PV systems up to 1 MWp to be quickly connected to any grid operator and direct marketer in Germany. "Our goal is to drive the energy transition forward," says Rouven Lenhart, Executive Vice President Sales & Marketing at meteocontrol. "The REvolution Booster Kit simplifies planning processes, reduces workflows and interfaces, facilitates cost calculation, shortens delivery times and makes projects effortlessly scalable." The package includes a complete, standardized hardware solution as well as all the services required for planning and commissioning the power control connection. The range of functions can be flexibly expanded and adapted to any plant topology on a project-specific basis. All interfaces are modular in design, thus enabling a high degree of scalability. The package is available at a fixed price and can be delivered within two weeks after order confirmation.
Coordination of the power plant controller concept with all relevant stakeholders such as grid operators, direct marketers or EPCs is handled by meteocontrol, as is the commissioning of the PPC solution. Additional services such as metering point verification are available as required. The Power Plant Controller is certified according to the technical connection rules for medium voltage (VDE-AR-N 4110) and high voltage (VDE-AR-N 4120) valid in Germany. Depending on the bridging time requirements, different variants (DC) with battery buffer times of four or eight hours are available.
Efficient monitoring and control of energy storage systems
One of the most important tools for reliable round-the-clock supply is energy storage. meteocontrol now offers tools to monitor not only PV systems, but also the batteries. On display at the show are new battery features that will be available in the VCOM soon: new standard charts to display the charging and discharging behaviour of the system, as well as new portlets to visualize the power flow in the system and check the most important battery values at a glance.
Data intelligence for holistic energy management
"We offer our customers comprehensive and professional services in all segments from Commercial to Utility. Our goal is to support every phase of the project with the right solutions," says Dr. Stjin Stevens, CTO at meteocontrol. "Our innovative services use data intelligence to gain complete control over assets and data. In this way, we push the evolution towards holistic energy management."
meteocontrol on course for growth
At its booth, meteocontrol will also provide information on career opportunities and job offers: With its forward-looking solutions, the full-service provider for intelligent energy management continues to grow internationally and has just recently opened another location in Berlin. The People team will be available at the trade fair stand to get to know each other and for initial discussions. All current vacancies can also be found here.