Product news: Discover now what´s new
Our latest releases and innovations
Numerous features have been newly developed for the blue'Log XM / XC and in VCOM Cloud - for reliable grid integration, improved usability or extended data availability and transparency. This way, the new monitoring in VCOM Cloud supports you in reliable O&M processes. Smart alarms offer a data- and component-based solution, including state-of-the-art machine learning algorithms to detect and generate only alarms that matter. For PV systems that need to ensure a reliable energy supply throughout a 24-hour cycle, energy storage is one of the most tools at hand. For this reason, completely new battery functions have been developed.
Curious about the latest developments? Learn more about the most recent features and the innovations worth looking forward to in our overview.
Smart alarms
Creating only alarms that matter
The worldwide continuous growth in the renewable energy sector makes it necessary to rely on a strong O&M process to increase the time efficiency towards more green energy generation.
The new monitoring in VCOM offers a data- and component-based solution, including a state-of-the-art machine learning algorithm to detect alarms. For this purpose, data is collected from any source thanks to our open import interface. State-of-the-art machine learning approach has been implemented to learn the normal behavior of an inverter as a main component of a PV system, which then leads to learning the behavior of the system itself. With this approach, possible losses as well as respective root causes can be detected intelligently.
In this sense, all the benefits of machine learning and of the data we dispose of, lead to an efficient, modern monitoring system that only creates alarms that matter.
New user interface
In addition to the updated alarms and the easier system and inverter outage recognition, we redesigned the user interface. It now facilitates the alarm configuration providing the user with standard alarms, user-defined alarms as well as simple rules to configure an Email notification for specific alarms. Using the drag&drop function between the alarm and ticket portlets, the O&M process can be operated even more intuitively and efficiently.
No more redundancy in alarm creation
New alarms are updated as long as the issue is detected by our system.
Easier system & inverter outage recognition
The component-based monitoring makes it possible to identify concretely inverter outages, including the designation of the affected inverter directly from the new alarm portlet.
Simple & intelligent alarm configuration
Due to the intelligent alarm configuration, there is no need for manually pair configurations for every device and no need to manually adjust the alarm configurations after a change on the system configuration. Furthermore, the target value of each inverter based on machine learning algorithm or an automatic inverter comparison is carried out by the VCOM backend.
Outage alarms available over the VCOM API
Providing the data on outage alarms via the VCOM API ensures the automatization of your internal O&M process.
Battery monitoring & control
One of the greatest challenges of the PV industry in its core is the dependency on daylight and weather conditions. For PV systems to ensure reliable energy supply during a whole 24h-cycle, energy storage is one of the most important tools at hand. To facilitate the growth in PV and battery storage systems all over the world, we want to provide you with the necessary tools to monitor and control not only PV systems, but the battery with it.
For this reason, all-new battery features have been developed and will be available in the VCOM Cloud and the blue'Log X-Series.
New standard charts to display charging and discharging behavior of the system
The power flow of the system is displayed in the new power flow portlet - available for systems with and without battery
New battery portlet to evaluate the most important battery values at a glance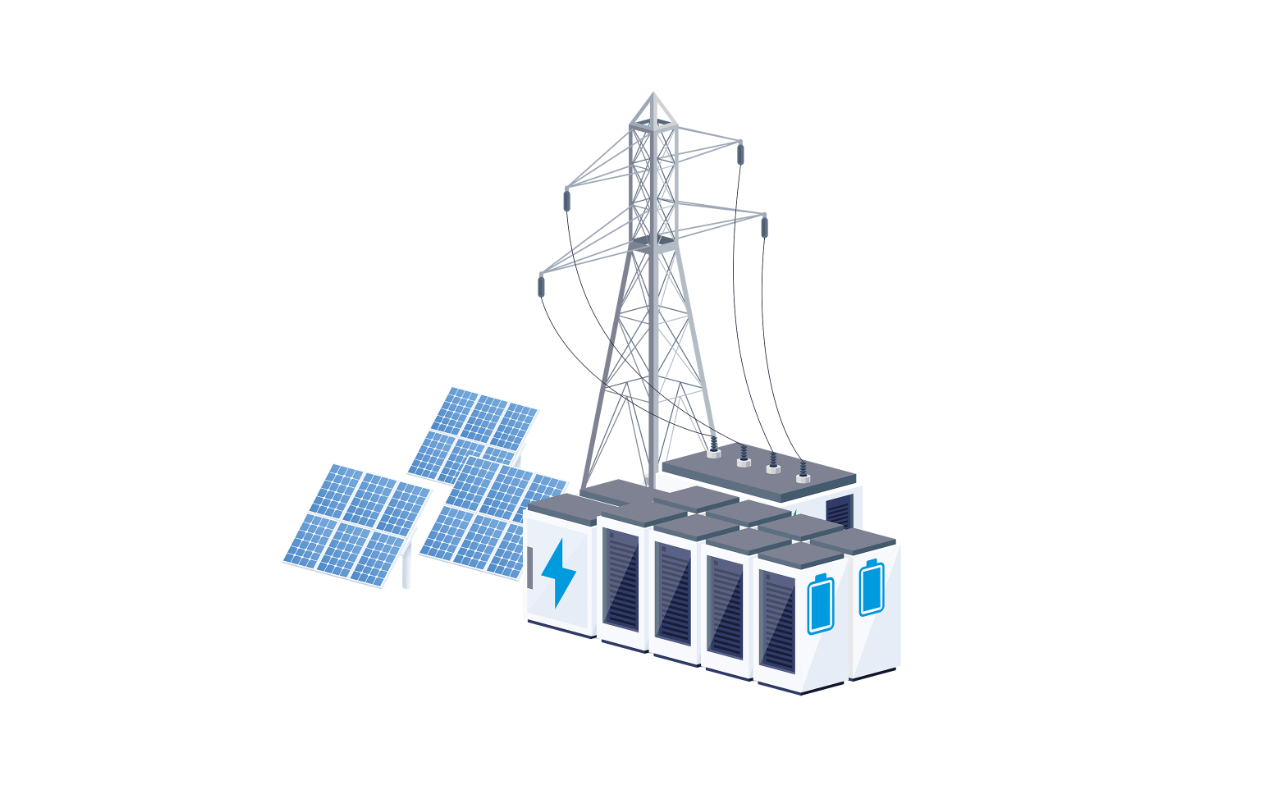 In the evolution of the blue'Log XC from a PV Power Plant Controller to a hybrid controller you can already look forward to:
PV and battery control
Battery manufacturer independence
Battery grid control (P, Q, ramp rate limiter)
State of charge control
State of charge balancing
Individual battery control
FCR and FRR support
Data accessibility & scalability
VCOM Cloud
The VCOM Cloud is continuously being developed to facilitate professional operation management with integrated data handling, portfolio management and alarm handling. You can look forward to integrated solar power forecasts, a new Power Plant Controller dashboard and more flexibility for KPI calculation, which will be available soon. All details about the new features: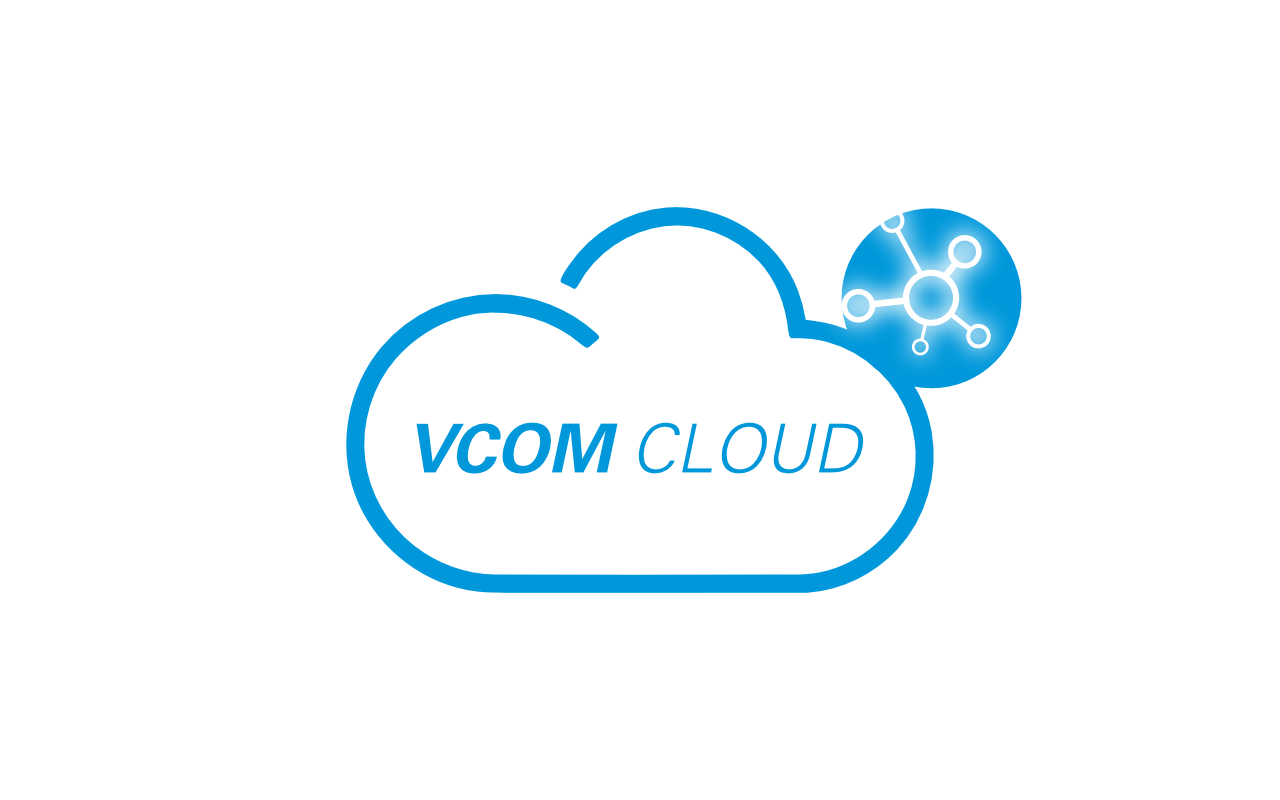 Data cloud backup
Easy solution to push data in another cloud infrastructure
Coming soon
Solar power forecast
Day ahead and intraday solar power forecast integrated in VCOM
For a fully integrated solution in VCOM, the day ahead as well as the intraday solar power forecast will be soon available in VCOM for a better estimation of the system performance in the short term.
Based on the current system performance, possible losses will be estimated and displayed as well for the respective system to enhance the efficiency in the O&M process and react on time for issues, avoiding further losses in the future.
Solar power forecast available via the VCOM API
Solar power forecast available as new chart in VCOM
Losses identification
Detailed classification of losses for a transparent evaluation of the system
It will be possible to have a detailed classification of the losses for a transparent evaluation of the system based on non-recoverable losses soon. For this purpose, our implemented machine learning algorithm makes it possible to identify systematic errors considering the historical measurement data of the system.
Power Plant Controller dashboard
New standard charts, tabular evaluation of curtailment and effective reporting possibilites
For systems which are curtailed by grid operators or even with Zero Feed-In limitation, a new Power Plant Controller (PPC) dashboard will summarize all power control relevant information at the point of common coupling as well as its effect on the performance of the system. Therefore the PPC dashboard will include new standard charts, tabular evaluation of the curtailment as well as effective reporting possibilities.
More transparency in technical asset management
Flexibility for KPI calculation
The added value by O&M teams should be reflected on the respective KPI formula based on the specific asset management contracts and transparently correlated to our ticket system.
For reliable grid integration
blue'Log XM / XC extensions
Whether new or existing, commercial or utility plant, the blue'Log XM / XC is the solution for your project. We have once again extended the functionality with new features. You can look forward to more transparency in site availability, easier commissioning and improved usability.
A main aspect in the further development of the controller blue'Log XC is the country-specific grid code. Even though there is a European grid code, for example, some countries have specific requirements beyond that. These can either be their own certifications or adaptations of the power control. We are continuously working on the expansion of this functionality (currently e.g. for Spain, Italy, South Africa or Israel) to ensure grid-compliant feed-in worldwide.
More transparency in site availability
Providing data about state and power capacity to evaluate the availability of a system
For grid operators, solar traders and balancing service providers it becomes more and more relevant to get a better insight about the state and power capacity of renewable energy systems at any time. Therefore, blue'Log XC now provides the following real-time values about the weather situation and data about power levels to enable users to improve evaluations about site availability:
Irradiation and ambient temperature
Available active power
Available reactive power
Realized park restrictions by the grid operator
Number of installed inverters
Number of available inverters
Coming soon
Easier commissioning with manual mode
Offering a more efficient and easier way to complete power control and site acceptance tests required by the grid operator
Virtual meter
Solution for systems without single meter at point of interconnection (POI)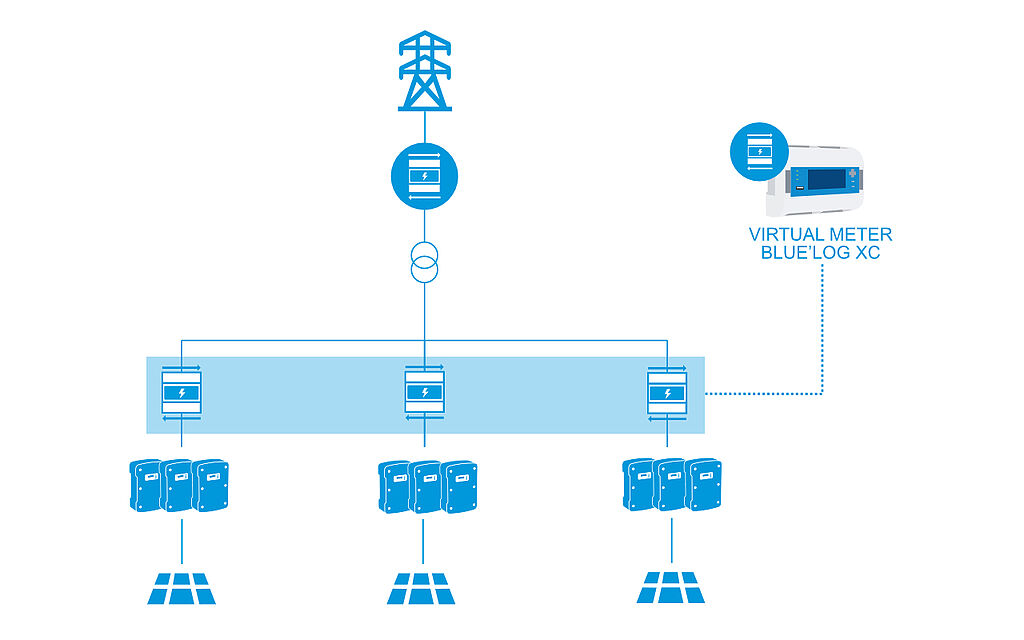 With systems in the commercial segment, there is often the problem that a measurement at the point of interconnection (POI) is not available and a retrofit of the current and voltage transformers is not economical. Therefore, the only approach for active power control requirements in closed loop is to measure at several points on the low-voltage side.
blue'Log combines and offsets the measurements of the existing meters and operates as a virtual meter. Since this solution is integrated in blue'Log, no additional hardware costs and no additional time delays in power control are to be expected.
Ready for Frequency Containment Reserve (FCR) and Frequency Restoration Reserve (FRR)
Implementing the power increase or reduction required by the grid operator in case of frequency deviations
The integration of renewable power systems into portfolios which contribute to balancing the grid is an ongoing process. For this, Transmission System Operators (TSOs) and Balancing Service Providers (BSPs) require real-time data and access to the power system. The blue'Log provides the necessary interface. Its graphical user interface requires no programming knowledge and settings can be easily changed in the blue'Log frontend through parameterizing. As the monitoring and control gateway the blue'Log now supports the auxiliary services FCR and FRR including the following range of functions:
FCR – Frequency Containment Reserve

Provision of FCR by switching to Frequency Sensitive Mode (FSM) in compliance with Network Code on Requirements for Generators (RfG)
Monitoring frequency measurement at the point of interconnection (POI)
Configuration of FSM characteristic curve with graphical assistance
Automatic control in case of grid unbalance

FRR – Frequency Restoration Reserve

Provision of FRR by receiving and executing external control setpoints from Balancing Service providers (BSPs)
Irradiation, system availability, available power estimate calculation and other measurements at the point of interconnection (POI) in real-time
Improved usability
Interface monitor
All configured interfaces at a glance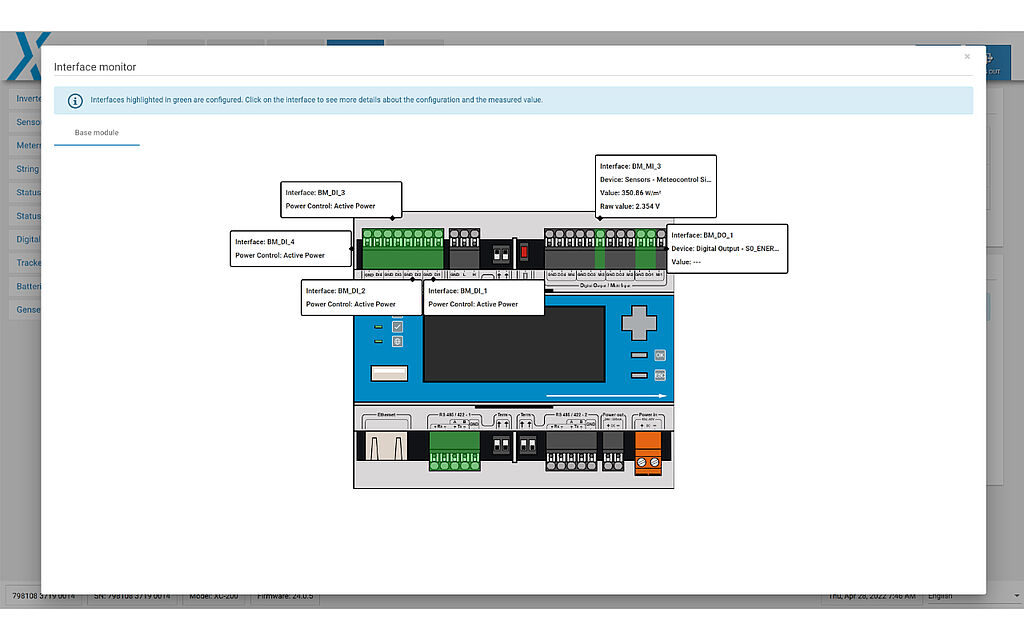 The graphical overview contains all configured blue'Log XM/XC interfaces. This allows you to quickly and easily identify for which function the interface is configured and its state or actual/live value. For sensors that are connected to analog inputs you can also check the electrical value. This is very useful when you want to identify if a sensor or cabling is damaged.
Firmware update via USB
Coming soon: Implement updates offline
If there is no internet connection available because of errors in the network, simply not ready yet during commissioning or because of security reasons, firmware updates can be implemented offline via USB drive.
Centralized start/stop
Coming soon: Remote or local shutdown and start of PV inverters with one command
For service reasons or in case of emergency you may want to stop all PV inverters of a system as fast as possible. With blue'Log XC you can do this with just one click via remote or local. Afterwards, you can easily start the system with the same options and efficiency.