July 29, 2022 |
Up for a coffee with... Hamed
Every company has and needs them – but we can rarely see them on photos of external events: the system administrators. That's why we want to seize the occasion of today's system administrator appreciation day to recognize those who help us out with their expertise however big or small the problem. On this occasion, I have chatted over a coffee with my colleague Hamed. He has been with us for a little while now, so let's find out if he appreciates us as much as we do appreciate him!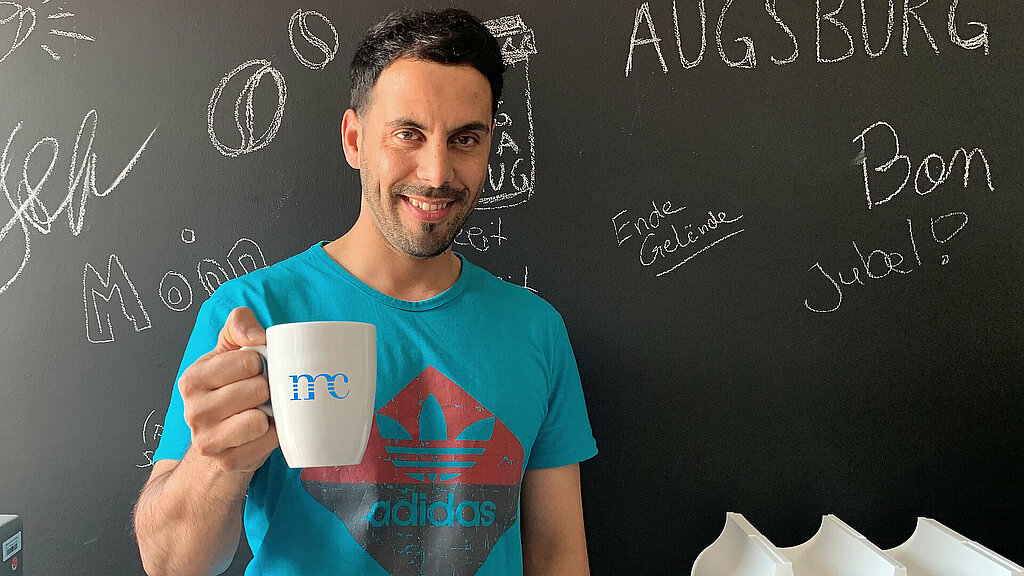 Sarah: Hamed, you have been with mc since this year's April, correct? Have you already settled in alright in the office?
Hamed: Yes, that's right! Even though it hasn't been a long time, I found my place in the team very quickly. Thanks to my team colleagues and the smooth onboarding process, I got the hang of my tasks within the first few weeks.
Sarah: I'm glad to hear that you had a great start! Do you work from the office regularly or do you prefer remote work?
Hamed: While I love that it is entirely our choice from where we work, I prefer coming to the office. I like to feel the work environment and the personal contact with my colleagues. Whether it's the small-talk when you run into someone or playing kicker on the terrace after lunch.
Sarah: What does your average day at work look like?
Hamed: My day doesn't actually start by coming to the office. I like to get a head start on the day by waking up at 5:00 am, doing my workout and having a good breakfast. In the office I start by checking if all crucial systems are running, having a look at our ticketing system and of course checking my mails. After that, I get right back to my projects.
Sarah: What are you are working on at the moment?
Hamed: At the moment, my favorite project is the migration to Microsoft 365. That includes rolling out the software and introducing it with all its functions to the colleagues. The reason why I enjoy this task in particular is, that I actively get to be part of improving our work here at mc. At the same time, I get to be in touch with colleagues from other departments, who I usually don't directly work with a lot.
Sarah: So, the personal contact and direct exchange with your colleagues is very important to you?
Hamed: What can I say – the people here are so friendly and have been so welcoming, it is simply a great place to work! Every day, I try to start with a smile on my face and a positive mindset that I hope to pass on to everybody around me.
Sarah: That's truly wonderful! I guess the M365 migration isn't your only task?
Hamed: Not at all! System administrators are not only problem-solvers, but also help improving workflows and support colleagues on how to use technology in a more efficient way.
Sarah: How would you explain your job to a child?
Hamed: I'd say that I make sure, that your laptop doesn't turn off. And if it does, I'd walk together with you to the power outlet to check if your laptop has been charging.
Sarah: What about your team?
Hamed: I have great colleagues in my team. We support each other with complicated tasks. We are nevertheless in the middle of a transition phase and are currently looking for a team lead. I have a few side projects and workflow optimizations that I've been thinking about and another helping hand would make things a lot easier.
>>>> Join our team! We're looking for a Team Lead / Senior IT Administrator (all genders) and have many other vacancies.